Welcome
50th Reunion is approaching.
SEE BELOW FOR INFORMATION INCLUDING HOUSING, BOSTON POPS, AND HARVARD KEY.
50th Reunion Class of 1968
May 2017 was the 50th anniversary date of the release of the Beatles' Sgt. Pepper's Lonely Hearts Club Band album; we hope you know that May 2018 is the "release of the HR Class of 1968" returning to campus for our 50th reunion.
1. Reunion headquarters opens Sunday evening May 20 and continues over 4 days (Mon-Thurs) concluding with Harvard's 367th Commencement of Thursday May 24 and followed by Radcliffe Day on Friday, May 25, 2018 for many. Sunday, May 20, is for those whose travel plans require them to arrive a day early. Reunion officially starts Monday, May 21, 2018. Reunion Headquarters will be in a River House and may be that of 2017's, Quincy House. Shuttle service will be available between the Harvard Business School Garage and the named River House throughout the Reunion. Student drivers are also available as needed in addition to regular reunion busing.
2. On-campus housing/headquarters closes at 9 am on Fri. May 25, 2018. There are no scheduled dining services after Thursday's 367th Commencement or Friday morning, May 25. (House guests continue to have breakfast in the House Dining Hall that Friday.) If you stay in Harvard on-campus housing, you will find yourself in the same wonderful dorms and Houses from your time as a student, lacking the amenities of a hotel. A majority of student rooms have shared restrooms and shower facilities. Classmates are encouraged to check out of their rooms Thursday as early as possible, unless staying for Friday's Radcliffe Day. (There will be no official 50th Reunion programming beyond the Annual Meeting of the HAA.) On-campus housing information will be shared as soon as HAA informs the Class this winter (last year's rate for the Class of 1967 was $95/person/night). Classmates can also identify any special housing or assistance needs that are due to a disability or medical condition.
3. Hotels in Cambridge (an updated list will be posted for Registration)
Hotel information as posted on July 25, 2017
Boston Marriott (near MIT)
(800) 228-9290 or (617) 494-6600
2 Cambridge Center, 50 Broadway/Kendall Square,
Cambridge, MA 02142
Specify block for 50th Reunion Class of 1968 now available from Sunday, May 20, with check-out Friday, May 25, at $319/night plus tax. Booking deadline: Sunday April 29, 2018 or until this block fills.
Charles Hotel
In-House Reservations (617) 864-1200
1 Bennett St., Cambridge, MA 02138
The hotel posted its Harvard Graduation Rate 2018 (required dates May 22, 23, 24 of 2018) on May 31, 2017, requiring full deposit for 3 nights (must be canceled
by Feb. 1, 2018 to receive refund).
Sheraton Commander
16 Garden Street, Cambridge, MA 02138
Look for Harvard Graduation Rates 2018 or in-house reservations
You can view rates for Harvard Commencement 2018 by visiting the following link and plugging in your requested dates of stay: www.sheratoncommander.com. Guests can also call 800-535-5007 to book reservation over the phone.
4. Create/Open your Harvard Key:
We're pleased to announce that the Harvard and Radcliffe Class of 1968 has a new website! Check out 1968.classes.harvard.edu for class news and events. Some portions of our site are restricted to classmates and require HarvardKey, the new login credential that also grants access to the alumni/ae directory on alumni.harvard.edu. If you haven't claimed your HarvardKey, you can do so here.
5. Contribute to Reunion Planning:
Our objectives should reflect the class and we will be asking classmates to join us in many aspects of reunion planning, from simply a phone call with an idea to intermittent contact to more robust monthly meetings now in progress. Please visit our class webpage to learn about a variety of ways you can share in the reunion and accept invitations to share your words, your writing, filmmaking and art, poetry and conversation. (Check out the tab, Our Class, which is TBD.) We will also invite the class to complete a 50th reunion survey, adapted from our 25th questionnaire.
Our 45th Reunion gathering was featured in Harvard Magazine and led many of us present (and those absent) to imagine how we'll look at the world and our class at our 50th. Please join the conversation and meet transformation (and history) everywhere we turn.
Please begin sharing ideas, thoughts and other perspectives for how we can "come together" again. Let's reflect, enjoy and also consider how our Class of 1968 has, and can continue to "come together" to make a difference in the world, in our societies, in our community and of course, in our families.
We will be "50" again only once! Please join those you remember and those you never knew and be inspired to continue conversations that transcend our lives and inform our generation.
Eva I. Kampits and Don Chiofaro for the Reunion Committee
BOSTON POPS
Tickets are available to those in '68 who wish to enjoy a traditional night at the Boston POPS on Tuesday, May 22, 2018 (8:00 p.m.).
Individual purchases may be made through the BSO site linked here
Classmates may select (and purchase) a group of tickets for seating together and should in any case, arrange for their own transportation. (This being one of a number of Tuesday night activities for the 50th Reunion there will be no shuttle buses.)
To claim your HarvardKey, visit https://key.harvard.edu/ and click the link "Claim Your HarvardKey." On the next page select the appropriate user type by clicking on the tab that reads "Alumni." Then click "Continue."
Step 1.
Enter your HAA ID in the first field. Your HAA ID is found at the bottom of messages from HAA, such as the messages you are getting now about the Reunion.
In the second field, enter your last name. In the third field, enter your degree year. Click "Continue." This will cause a confirmation email to be sent to the primary email address Harvard has on file for you. If you need to update the primary email address on file, please contact Alumni & Development Services at ads@harvard.edu.
Step 2.
Click the link in the email sent to your primary address and enter the 8-character confirmation code. Click "Continue."
Step 3.
In the Login Name field, enter a Login ID in the form of an email address. Click "Continue."
Step 4.
Enter at least one recovery email. This will be used should you misplace your password or Login ID. Click "Continue."
Step 5.
Enter and confirm your new password. Click "Submit" to complete the process.
If you still have trouble registering or need more detailed instructions, please see our registration help page or please call the Harvard University IT Support Desk at 617-495-7777. HU IT Staff are available to assist you Monday through Friday, 7:30 a.m. – 8:00 p.m.; Saturday, 10:00 a.m. – 6:00 p.m.; and Sunday, 12:00 p.m. – 5:00 p.m.
Harvard and Radcliffe Class of 1968
Forty-Fifth Reunion
Link for ordering Class photos
http://www.panfoto.com/photography/reunions/detail.cfm?RecordID=638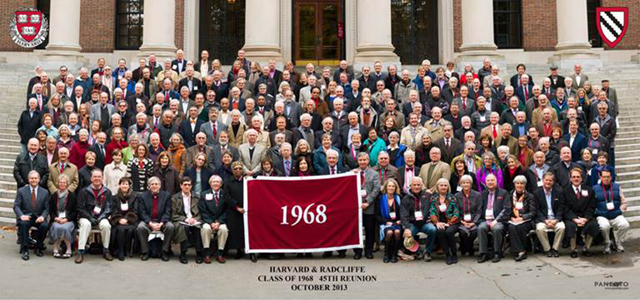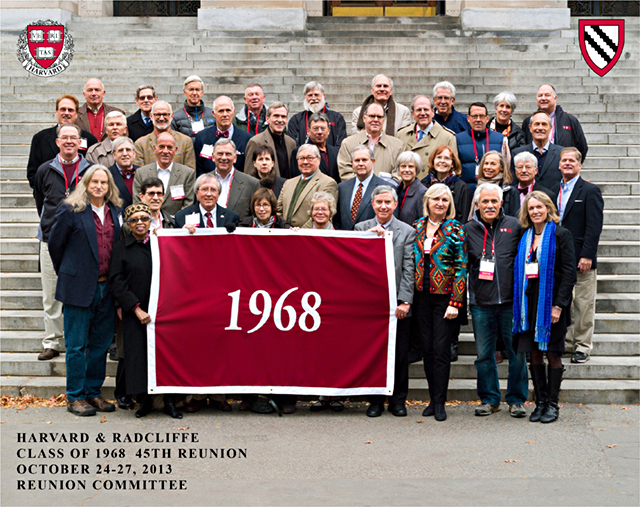 Harvard-Radcliffe Class of 1968 Reunion
21 May 2018
| | | | | | | |
| --- | --- | --- | --- | --- | --- | --- |
| 00 | : | 00 | : | 00 | : | 00 |
| days | | hours | | minutes | | seconds |