Welcome
50th Reunion is approaching.
HR Class of 1968 Reunion Update May 30, 2017
Subject: Preliminary Housing News
May 2017 is the 50th anniversary date of the release of the Beatles' Sgt. Pepper's Lonely Hearts Club Band album; we hope you know that May 2018 is the 'release of the HR Class of 1968' returning to campus the last week of May 2018.
1. Reunion headquarters opens Sun evening May 20, with Harvard events concluding at the 367th Commencement of Thursday May 24, followed by Radcliffe Day on Friday, May 25, 2018 for many. This email message is to alert you to Housing plans for those arriving on Monday or, in some cases, the weekend prior to the official start of our 50th reunion.
Sunday, May 20 is for those whose travel plans require them to arrive a day early. Reunion officially starts Monday, May 21, 2018.
Reunion Headquarters will be in a River House and may be that of 2017's: Quincy House. Shuttle service will be available between the Harvard Business School Garage and the named River House throughout the Reunion.
2. On-campus housing/headquarters closes at 9 am on Fri. May 25, 2017. There are no scheduled dining services after Thursday's 367th Commencement or the Friday morning, May 25.
By electing to stay in Harvard on-campus housing, you are electing to stay in the same wonderful dorms and Houses from your time as a student, thus rooms lack hotel like amenities with some shared restrooms and shower facilities. Further details will be issued as we confirm 2018 details with the HAA.
Classmates are encouraged to check out of their rooms Thursday as early as possible, unless staying for Radcliffe Day (Friday). (There will be no 50th Reunion programming beyond the Annual Meeting of the HAA.)
3. Cambridge Hotels (fuller list will be posted later)
Charles Hotel
In-House Reservations (617) 864-1200
1 Bennett St., Cambridge, MA 02138
The hotel posts its Harvard Graduation Rate 2018 (required dates May 22, 23, 24 of 2018) on May 31, 2017, full deposit for 3 nights; must be canceled by Feb. 1, 2018 to receive refund.
Sheraton Commander
(617) 542-4800
16 Garden Street, Cambridge, MA 02138
Look for 'Harvard Graduation Rates 2018' or in-house reservations
You can view rates for Harvard Commencement 2018 by visiting the following link and plugging in your requested dates of stay. www.sheratoncommander.com. Guests can also call 800-535-5007 to book their reservation over the phone
2018 Reservations for Reunion Week 2018 are open
Boston Marriott (near MIT)
(617) 494-6600
2 Cambridge Center, 50 Broadway/Kenmore Square, Cambridge, MA 02142
Reservations and rates for Harvard Reunion 2018 are pending.
Ask for In-House, Special Events Registration or Sales Department given that Harvard Reunion dates have not been set up as of our calling May 2017.
SAVE THE DATES:
Please SAVE THE DATES of our 50th Reunion in 2018!
Week of May 20 ending Friday May 25, 2018.
…Harvard's 367th Commencement followed by Radcliffe Day/Friday Departure
1968 remains a 'non-traditional' class so naturally we're alerting you earlier (one year earlier actually) particularly in order to remind you reunions are now in late May and we wish to begin sharing ideas, thoughts and other perspectives for how we can 'come together' again. Let's reflect, enjoy and also consider how our Class of 1968 has, and can continue to 'come together' to make a difference in the world, in our socities, in our community and of course, in our families.
We will be '50' again only once! Please join those you remember, those you never knew, and be inspired to continue conversations that transcend our lives and inform our generation.
Create/Open your Harvard Key:
We're pleased to announce that the Harvard and Radcliffe Class of 1968 have a new website! Check out 1968.classes.harvard.edu for class news and events. Some portions of our site are restricted to classmates and require HarvardKey, the new login credential that also grants access to the alumni directory on alumni.harvard.edu. If you haven't claimed your HarvardKey, you can do so here.
Contribute to Reunion Planning:
Our objectives should reflect the class and we will be asking classmates to join us in many aspects of reunion planning, from simply a phone call with an idea, to intermittent contact to more robust monthly meetings which we begin planning now (this spring 2017)—far in advance of other reunions.
Our 45th Reunion gathering was featured in Harvard Magazine and led many of us present (and those absent) to reflect on how we'll look at the world and our class at our 50th. Please join the conversation and meet transformation (and history) everywhere we turn.
Eva I. Kampits and Don Chiofaro for the Reunion Committee
Harvard and Radcliffe Class of 1968
Forty-Fifth Reunion
Post Reunion Resources
Link for ordering Class photos
http://www.panfoto.com/photography/reunions/detail.cfm?RecordID=638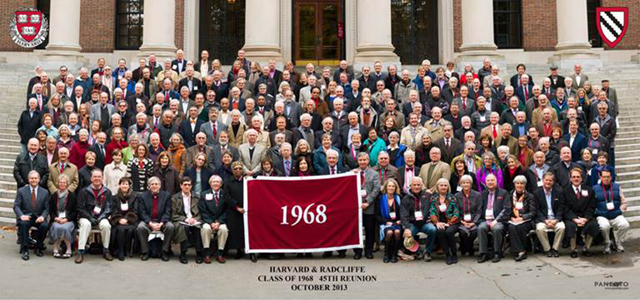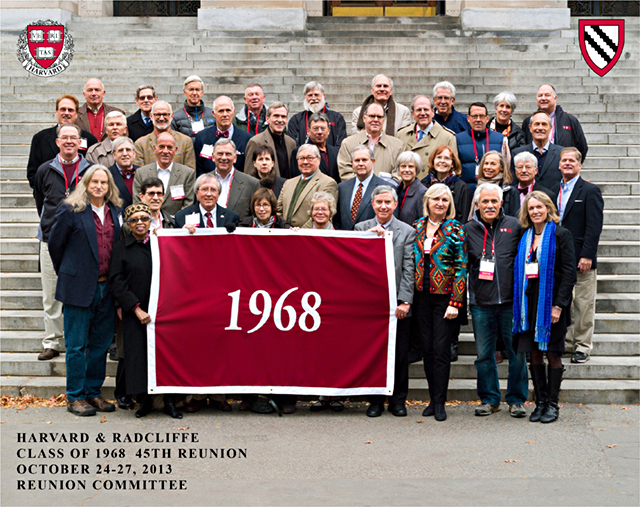 The class wishes to recognize and formally thank Howard Georgi, Harry Lewis, and Pete Zimmerman (Harry and Pete not in group photo) for their central role in hosting key Reunion events in Leverett House, Maxwell Dworkin, and the JFK School of Government.
Read about our Reunion in Harvard Magazine:
http://harvardmagazine.com/2014/05/fall-in-with-classmates
Reunion Schedule
Follow-up Letter to Class of 1968 From Don and Eva
Symposia Information
Public Policy: https://www.youtube.com/watch?v=KMOF1rEpo1o
Higher Education: https://www.youtube.com/watch?v=kWtUPdNUUy8
Future Healthcare: https://www.youtube.com/watch?v=grl62DjCHd4
Disruptive Weather: https://www.youtube.com/watch?v=zKro7hE1ifQ
In Our Sixties: https://www.youtube.com/watch?v=wJ_qzv-VZiY
Professor James McCarthy—Disruptive Weather, the Oceans, and Climate Change
Crimson Coverage of the Cabaret
Cabaret Program
Cabaret Trailer For trailer or video preview click link below: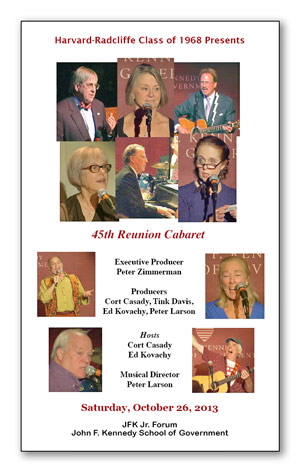 Dear Peter Benjamin,
I received my DVD today. I stayed up until
2:00 AM
watching it, delighted and, frankly, in awe of
the talent and the deep bond of community in our class. This was our best Cabaret ever. Your DVD captures the magic, the creativity, the connection, and, above all, the heart of the Cabaret. It is, quite simply, an extraordinary and loving job you have done, Peter. You did it! For those of us who were blessed to be there, it brings it all back--wonderfully so. It is a treasure to have this DVD. For those who couldn't make the show, I hope they add this DVD to their library. What a treat they have in store. Thank you, Peter, for so beautifully preserving this wonderful moment in time for all of us to share. Yes! Yes! YES!!!!
I second that emotion.
I received mine yesterday. Peter B. honors us all with his thoughtfulness and the high quality of his work.
The CD is a treasure,
Peter Larson
---
Cabaret Video Order Form
Memorial Service Program
Memorial Service Audio Clip
Harvard 1968 Reunion Attendees
Photos from the Reunion
https://drive.google.com/folderview?id=0B3VrjPTKhG_gZV9rSlFnUUhlV28&usp=sharing
Videos from the Reunion
https://drive.google.com/folderview?id=0B3VrjPTKhG_gbWNWS3hreEUzb0U&usp=sharing
_______________________________________________________________________
Glimpses Information
Being gay -- then and now: Butler
If Life is about Loss---: Hornblower
Those We Love--Life, Death, Joy: Peterson
Eye, camera, mathematics: Mordy Willson
________________________________________________________________________
Remembering 1964-1968: A Profile
Link below for Freshman Register for Men
http://nrs.harvard.edu/urn-3:HUL.ARCH:12056438
Central Park Zoo Band Membership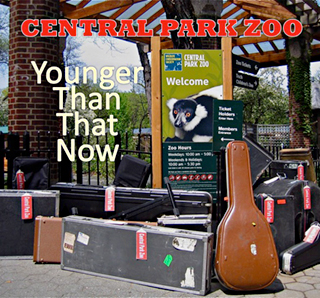 If you were at our Leverett House mixer Friday night, October 25th, you were WOWED by the Central Park Zoo, their great selection of 60s songs, their great musicianship, and their great Class of '68 spirit. They were inspired by our dancing and our staying power! In appreciation, the Zoo will send their CD – for free! – to the first 100 of our classmates who request one through the "contact us" section of the Zoo's website, cpzoo.com (Please include your mailing address and say something like I ____________ am a member of the Class of 1968 and would like to request the free copy of your CD promised to the first 100 who contact you. Please mail it to: (Street, City, State, Zip)). And keep the Central Park Zoo in mind if you or your organization needs a great band to perform for people who are as cool as the Class of 1968.
---